Welcome!
We're excited to help you get started with Macorva CX so you can begin capturing and analyzing actionable customer experience feedback. Our user-friendly, mobile-first experience ensures you'll learn more from your customers' experiences than conventional survey tools.
Here's a quick rundown of the most important steps to help you get started.
Quick demo
Types of customer surveys
Macorva allows you to capture feedback on a wide range of subjects. Note that a Macorva survey can include any or all of the following:
Brand experience - Typically this is a Net Promoter Score (NPS) question, such as "How likely are you to recommend us to a friend or colleague?"
Customer experience - Also known as customer satisfaction (CSAT), this is typically a question on how much the customer liked their visit, training session, support, etc.
Customer effort score- Also known as CES, this typically is a question to determine how much effort is required on the part of the customer to achieve satisfaction in their experience. 
Employee experience - If one or more employees had a meaningful interaction, you can directly ask the customer to rate them. Macorva will show the employee's first name and profile picture.
Product experience - This is a great way to get feedback on a product that a customer has used, consumed, etc.
Open comments - Comments can tell a full story. Macorva recommends that common topics are added to positive and negative attributes so they can be directly tracked and trended.
What channels can I use to deliver surveys to customers?
With Macorva CX, you can send surveys directly to customers via:  
Email
Text Message / SMS
QR Code
or embed the survey right in your website
Lets get started!
Macorva uses magic links, or sign-in links, to provide access. This is more secure than traditional username / password log-ins and integrates user authentication without additional steps. 
Optional: SSO / Okta Support
Some companies have SSO setup for their Macorva accounts. If your company has this option enabled, you may notice that you do not have to log in when you go to company.macorva.com. Note that the magic links we send to your email and phone will still work on personal devices, without requiring you to be logged in through your main company account.
Delete
To complete a survey or view results, simply click the link included in your email or text notification from Macorva. Clicking this link logs you in and automatically directs you to your open survey or personal results dashboard.
To request a new sign-in link:
Go to app.macorva.com, enter in your company email address, and click Send a new sign-in link.
Check your email or phone for a message from Macorva. 
Click the link in this message to sign in. 
Once you receive a sign-in link, you can continue to use this link to access Macorva for 14 days. You can generate a new sign-in link at any time by going to app.macorva.com. 
Adding my org chart
Configuring Macorva's org chart is your first step when implementing both EX and CX plans. With the org chart, employees can see how your organization is structured, find the right person to contact for a project, look up contact information, review survey results, and more. 
Our visual presentation helps employees put a name to a face, keeps your organization connected, and promotes transparency between leadership and employees. It's also the most flexible way to review EX survey results for yourself and your teams.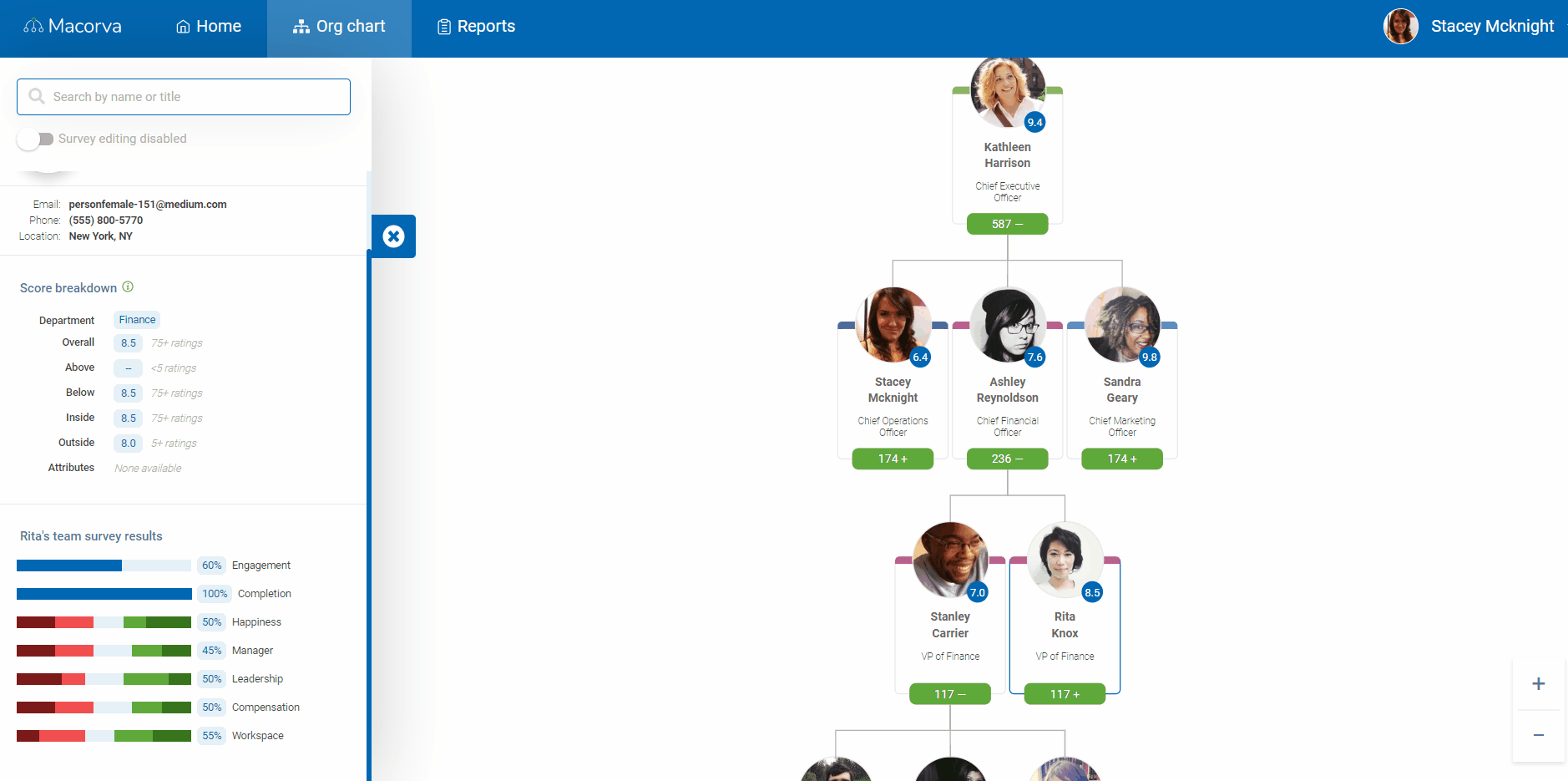 ADP integration
Macorva's integration with ADP completely automates org chart setup and management. After purchase, Macorva's customer support team will enable syncing with your ADP account. From there, Macorva will sync with your ADP system hourly based on any changes you've made and perform a full sync weekly.

If you notice any discprepancies, email support@macorva.com. 
Delete
General HRIS integration
Your IT department can set up an API call to your HRIS to automatically import and routinely sync your org chart data with Macorva. Follow these steps to enable:
Email support@macorva.com from your Macorva domain email address (your work email) requesting an API key for HRIS integration. Include the name of the HRIS you are currently using. 
Our support will work directly with your IT to configure the connection. This usually takes less than one day of work with your IT.
Give the API key and our API documentation to your IT to set up a one-way communication of org chart data. 
Delete
Bulk upload via CSV
Creating your org chart via CSV upload is the most flexible method for quickly building your org chart via a bulk upload. Follow these steps to create your org chart:


Log into Macorva with your admin account. 

On the top menu, go to ⚙

 

Configure 

→ People, then select Bulk download/upload: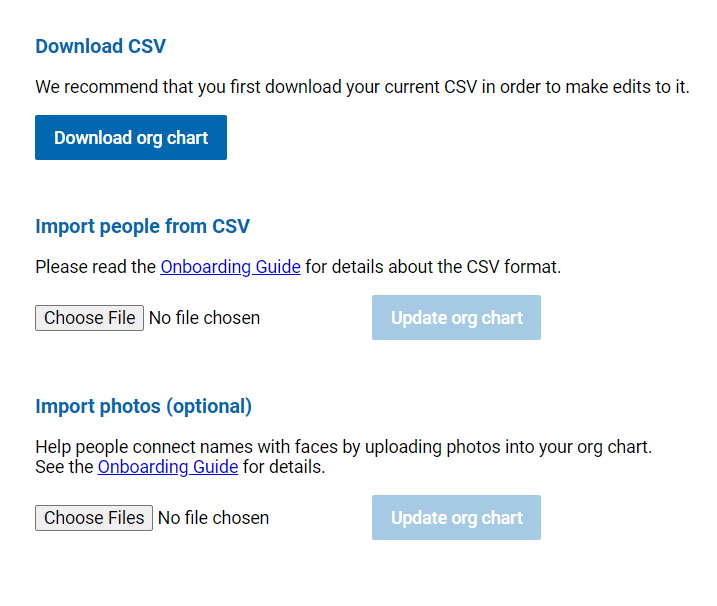 Recommended: Click Download org chart to download an editable *.csv template. The column titles in this file are already mapped to the correct contact variable. Just copy/paste your employee details into the file, save, upload under the Import people from CSV option, and click Update org chart.
Delete
Manual setup
Admin users can manage the org chart via Config -> People 

From there, add new employees by selecting:


When adding a new employee, all required fields are noted and info bubbles provide additional details on hover.


Note: An employee's manager determines their specific position within the org chart.
Delete
If you have integration with your HRIS set up, employee photos will automatically be imported via the nightly sync (hourly for ADP users.)
If you do not have HRIS integration set up or do not have employee photos uploaded in your HRIS, you can upload employee photos in Macorva using the people editor or *.csv download:
Log in as an admin user and select 

⚙ Configure 

→

 People. 
Use the people editor to search for employees and select Choose a photo to upload:
Or, select Bulk download/upload in the top right, and choose Import photos (optional) to upload a batch of employee photos all at once. 
To use the bulk upload, you must ensure all photo files are named Employee ID.jpeg (or .png, .jpg). 

The Employee ID is the unique identification string assigned to each employee. 

This string comes directly from your HRIS if integration is set up. 

If integration is not set up, you will define the Employee ID when creating your org chart. 

Use/download your org chart *.csv to reference your Employee IDs when naming the photo files. 
Creating my first customer survey
Users with survey management permissions can create and manage surveys via:
Step 1: Choose the appropriate Category for your survey.
Step 2: Select + and add a new survey.
Step 3: Add a survey name and ID. The ID is used for identifying your survey when sending your survey via CSV or using Macorva's API. 
Step 4: Build your survey by reviewing each section of the survey builder. Default communication and questions are provided in each section. Use the customer communication section to control your messaging and and branding.
Step 5: Use the Net Promoter Score (NPS) section to add NPS to your surveys. NPS can be added with or without attributes. Attributes can be customized to fit your needs by clicking "Default attributes"
Step 6: Use the CSAT section to add CSAT to your surveys. CSAT always has attributes. Attributes can be customized to fit your needs by clicking "Default attributes"
Step 7: Employees and Product sections can also be added and customized similar to the NPS/CSAT sections. 
Step 8: Review the appearance of your survey on the right in real time.
Step 6: Save and you're ready to send!
Step 7: (Optional) Assign your survey to a group. For example, you may organize your Locations into Regions. After adding the survey, click "Save Group"
Why should I attach employees to my customer surveys?
While many other customer survey tools focus on product ratings, net promoter scores, or location and service ratings, Macorva lets you do all of this while also capturing employee-specific feedback. 
This feedback is immediately collated, presented to that employee on their dashboard, and used by Radiant AI to provide professional development suggestions specifically tailored to that employee. See examples of what data and action planning suggestions may look like in Macorva.
Customer feedback dashboard:
Example Radiant AI suggestions based on IO Psychologist training data:
Sending my first customer survey
After creating your first survey, test it by sending it to yourself. 
Step 1: Make sure your user account has manual survey sending permissions.
Step 2: Go to the Send survey page.
Step 3: Select your survey.
Step 4: Enter the customer information.
Step 5: (Optional) Customize the survey by including rating requests for employee(s) and/or product(s) plus a note.
Step 6: Submit the request to send your survey.
How do I send surveys to a list of customers?
In many instances, you may want to send out different surveys to generated lists of your customers or prospects for non-triggered events. Examples may include a customer loyalty survey, trade show visitor list, or sales training attendee list. 
Macorva's Bulk Send interface is the perfect tool for these ad hoc situations. Simply upload a CSV file with information on where to send the survey (email and/or phone), which survey to send, the customer's name*, any employees they may have interacted with (up to 100 per survey send)*, and any products*.
To access the interface:
Step 1: Log into Macorva as an admin.
Step 2: Go to the Bulk Send page.
Step 3: Upload a CSV (Optionally use Download template file as a starting point)
Step 4: After upload, the imported data will be displayed in the table. Review before pressing send.
Field definitions:
Survey: The survey ID of the survey the customer will receive.
Email / Phone: Where the survey will be sent.
First name / Last name*: The customer's name.
Employee #*: The employee ID of the employee that may be reviewed.
Product #*: The product ID of the product that may be reviewed.
*Optional fields
Where do I review customer survey results?
Head to the Customers tab to review an entire suite of automatically built and updated reports. You can also download full datasets of survey responses.
Some examples of Macorva's default reports are:
Overview provides a quick snapshot of NPS, CSAT, Completion rate, and Employee ratings 
Employee reports like customer favorites or those with low ratings.
Category reports like favorite locations or services. 
Customer reports like happiest or least satisfied customers.
And the list goes on.... 
All data is also available for CSV download or via our API.
What can managers view versus employees in Macorva CX?
Users with Manager permissions in Macorva CX are able to view:
CX rating dashboards and surveys as configured (see options below) 
Their employee ratings via the org chart
Employee users will have access only to their ratings via the Macorva homepage:
What's next?
We have several other articles that can help you customize the experience, automate sending, and dive deeper into the data. Have a look at the following to learn more:
Can I add custom questions?
Build and manage your own questions using the Macorva CX survey page. 
Step 1: User with survey management permissions can access via
Step 2: Add a new question by selecting a survey
Step 3: Scroll down to "Survey configuration" and select "Customized Questions" to open question editor
Step 4: Select "Add new question"
Step 5: Select an existing Question group, or create a new group by selecting "Edit groups" 
Question Groups allow you to group together similar questions to easily identify and add these to future surveys. Once you add a question, it joins your library and can be inserted into any of your surveys.
Step 6: Choose your question type
    A. Multiple Choice:
Question text: the text to appear on the question
Name: Short name of the question, this should be easily identifiable for use in reports, filtering, etc
Display answers: Horizontally vs. Vertically
Maximum number of selections: Allows you to set how many options users are allowed to choose. This is helpful for "Select all that apply" questions
Answers: Enter answer choices here
     B. Rating scale:
Question text: the text to appear on the question
Name: Short name of the question, this should be easily identifiable for use in reports, filtering, etc
Display choices: Horizontally, Vertically, As numbers large middle, As numbers boxes, with stars, with faces, slider
Scale: 1-5, 1-7, or 0-10
Labels: Option to edit the question labels
        C. Free Text:
Question text: the text to appear on the question
Name: Short name of the question, this should be easily identifiable for use in reports, filtering, etc
Display answers: Multiple lines, Single line, Inline (small), Inline (medium), Inline (large)
D. Display only:
This question can be used to add a message into your survey. It can be placed anywhere in the survey, but as the name suggests, it is Display only.
Question text: the text to appear on the question
Name: Short name of the question, this should be easily identifiable for use in reports, filtering, etc
Step 4: Choose whether the question should always be displayed or only be shown dynamically depending on another question(s) in the survey. See this dynamic example
Step 5: Save your question
Step 6: Return to the question list, scroll to the category you just added your question to, click the arrow to expand. Add the question to your survey by selecting the check box next to it
Step 7: The question will automatically be added to the end of the survey. Use the box on the left side to reorder the question where you'd like it to be.
Step 8:Repeat these steps to create any custom questions you need and would like to add to your surveys, then select "Continue" at the bottom of the question editor.
Remember that once you create a question here (no matter what survey you choose to edit) it will be added to your question library for you to use across all surveys. This prevents you from having to create duplicate questions for each survey.
Delete
How does Macorva CX save and calculate results?
Macorva CX simplifies the management of survey results and contact information by following these rules:
Every click and tap is saved, but partial surveys are not included in the results.
A survey is considered complete when the user clicks "Submit".
Response rate is computed by dividing complete surveys by the number sent.
Contacts are managed by:

If you send a survey with a phone number or email with a customer name, Macorva remembers that customer name if the next survey is sent only with an email or phone.
Likewise, Macorva will update a previously used email / phone only contact if a name is added at a later date.
Delete
How do I create a QR code for a survey? 
A simple way to capture survey data without proactively sending notifications is by adding a QR code to business cards, placards, or other materials. Macorva lets you activate static links with QR codes for any survey. To activate:
Step 1: Log into Macorva as an admin, then to go ⚙ Configure → CX surveys.
Step 2: In the left Category column, select the survey you would like to edit. In the middle column, click Customer communication.
Step 3: Enable the static URL option and click View QR to download the image for use elsewhere.
You may need to save the survey before the view QR button is active.
Step 4: Additionally, you can assign an employee to the survey. Select "Employee" and search or select employee to assign to the survey.
Step 5: If you'd like to add surveys to your website or email signatures, you can select the clipboard at the bottom to copy the survey URL:
Delete
How can I automate sending customer surveys?
Every customer interaction is an opportunity to gather feedback, but you don't want to slow down your business to send a survey. Macorva seamlessly fits into your current workflows with little to no effort. For example, you may want to automatically send a survey after a support call or after a customer purchase. Any of these triggers can be used to have Macorva send a survey using:
Salesforce App: Easily integrate Salesforce with Macorva using our app to sends surveys using any number of triggers and then automatically return those results to that Salesforce record.
Zapier: Zapier simplifies integration between 4000+ cloud-based tools without code. Connect Macorva to any number of products here.
Genesys AppFoundry: Genesys users can easily integrate Macorva via our App.
RESTful API: Integrate using Macorva's public API with less than 10 lines of code. See our documentation and contact support@macorva.com for your API key.
Delete
Can I send customer survey notification reminders?
It's common for customers to put off filling out surveys a day or more after receiving their initial survey notification. One easy way to jog their memory is by sending a quick reminder. 
Macorva makes it easy to configure and send reminder notifications on a per survey basis to help drive increased participation rates without annoying your customers. For example, if you're sending a reminder for a simple transaction we recommend sending only one reminder. However, for more extensive interactions like a car rental or in home consultation, you may want to send 2-3 reminders spaced over a week.
To configure reminders on your survey:
Step 1: Log in as an admin.
Step 2: Find your survey to edit by searching or create a new survey.
Step 3: Go to Customer Communication and edit.
You can turn on/off, set the maximum number of reminders, frequency between reminders, and customize your messaging (uncheck default to customize).
Delete
How do I direct customers to give reviews on Google/Facebook/Yelp?
Log into Macorva as an admin, then to go ⚙ Configure → CX surveys. 
In the left Category column, select the survey you would like to edit. To ask happy customers (those who rate their experience a 4 or 5) to give feedback on your Google, Facebook, and/or Yelp business pages, click Use default review sites in the middle column:
Enter your business page URLs for each platform you would like to direct happy customers to. 
Delete
Let us know how we can help!
Macorva support is always here to answer any of your questions and help you get the most out of your employee experience surveys. Reach out to support@macorva.com with any questions.